Kitchen Experiment: Bacon-Infused Vodka
I am not much of a drinker, but I know some people who are.
Somewhere along the way I decided that, as Christmas presents this year, I was going to make bacon-infused vodka for my sister and my friend Chad (both connoisseurs of drink and bacon--or as Chad likes to call it, "the holiest of meats"). The inspiration may have come from my sister's talk of making various edibles for Christmas gifts. I don't know.
Googling "bacon-infused vodka recipe" will yield varied results, but after reading through a few I decided to go with this one.)
The project began the day before Thanksgiving. I started by cooking an entire package of bacon.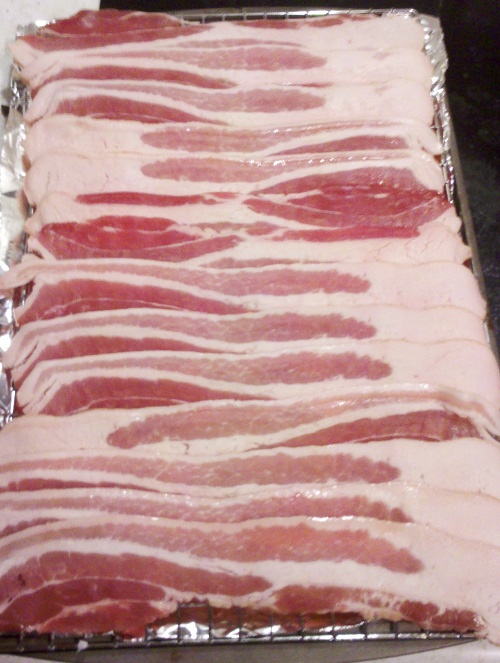 Bacon strips and bacon strips and bacon strips and bacon strips
I should note that I do not remember ever cooking bacon before. This is not because I don't like bacon; this is because I learned how to cook in an effort to eat healthier. Also, I enjoy my functioning circulatory system and the fact that I no longer weigh over 250 pounds.
You'll note that, with the exception of a rack, I'm basically cooking bacon like they do on Epic Meal Time. I figure they know how to cook a lot of bacon at once. I also figure this is the worst possible cooking show to take tips from, but that's what I just did.
Once the bacon was in the oven, I readied my tools for the next stage: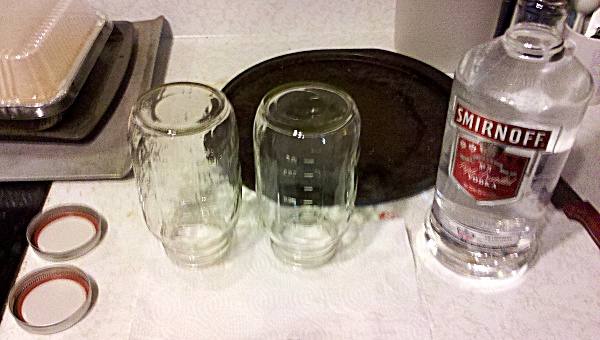 Tools of the trade.
(In this case, the trade is "making horrible things.")
Once the bacon was done, the next step was to fill the jars with vodka and then place the bacon inside: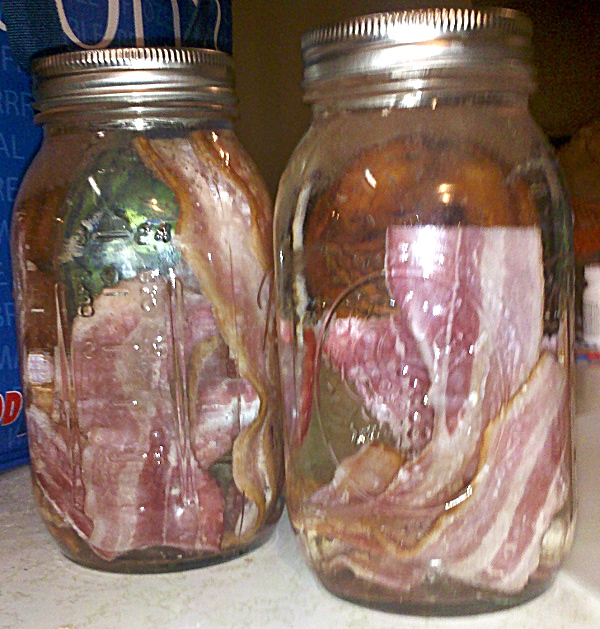 A scary looking science experiment.
Unfortunately, because I cooked the bacon in the oven, it didn't turn out as crisp as I'd hoped. It was also greasier than I would have liked (more on why that matters in a bit). However, suspended in a liquid, it's not hard to get the bacon strips (and bacon strips and bacon strips) to stand up halfway.
Per the recipe, I stuck it in the kitchen cabinet for three weeks. (The suggested length of resting time varies quite a bit between the recipes I found, so I suggest a bit of research before trying this yourself.)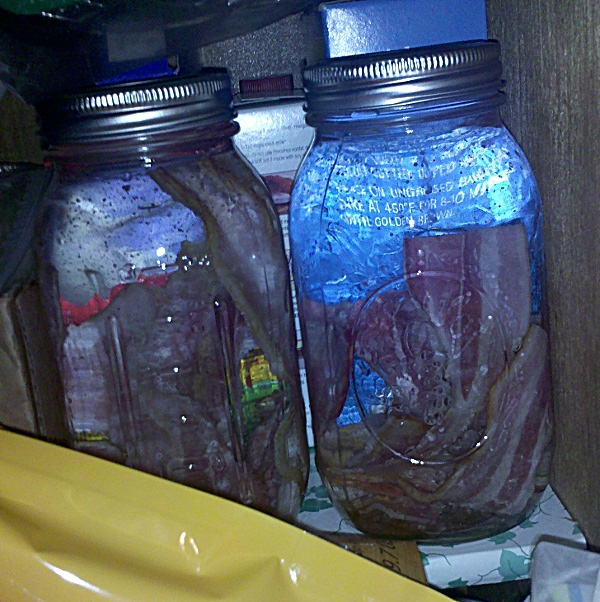 Can also be used as emergency bacon and booze rations.
And so we wait.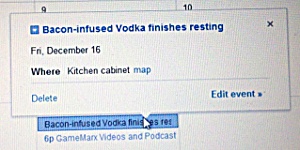 This is what Google Calendar's "Where" field was made for.
Confession time: during this three weeks I did a fair amount of Googling on "bacon vodka food safety." Theoretically, I knew alcohol was going to kill anything that formed on the bacon. But I was paranoid as to whether that would hold true for three weeks and whether the fat congealing at the top of the jars might present an issue.
My warning here is that, if you're paranoid about food safety and you've never done a vodka infusion, don't start with something easily perishable like meat. Unless you don't value your sanity.
Since this was to be a Christmas gift, I started working on the packaging during this time. Wide red ribbon + peach/fleshtone paint + white paint =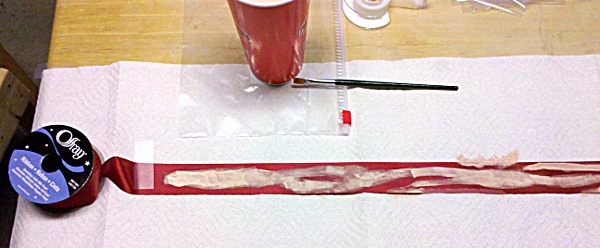 Bacon Ribbon
The three weeks ended last weekend, and this is what I was left with:

Resting complete
The picture isn't perfect, but you'll notice the vodka has taken on a yellowish tint (no, that isn't an off-color camera shot you're seeing there) and collected a lot of fat. The bacon is also worse for the wear, but (aside from a few brownish spots) doesn't look completely horrifying.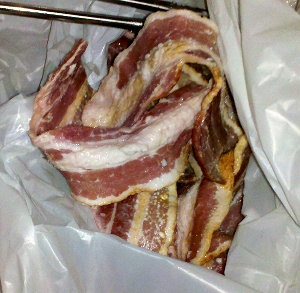 I still wouldn't eat it.
The mixture had acquired a very pungent aroma. It was sickening and a little bit sweet, and it seemed to mask the natural smell of the alcohol. I was afraid that this meant the fat had gone rancid or worse, but I've been told it does in fact smell like bacon. I can't recognize it, but then I'm not familiar with extracts or flavored liquors.
The smell was, I think, mostly the result of fat. From what I've read, that's mainly what gets infused into the liquor. (Remember I said the bacon cooked up greasier than I would have liked?) Knowing that now, I wish I'd used a smoky-flavored bacon or peppercorsn as the recipe suggested.
The next step in the process was to remove some of the extra fat, starting by putting the vodka in the freezer: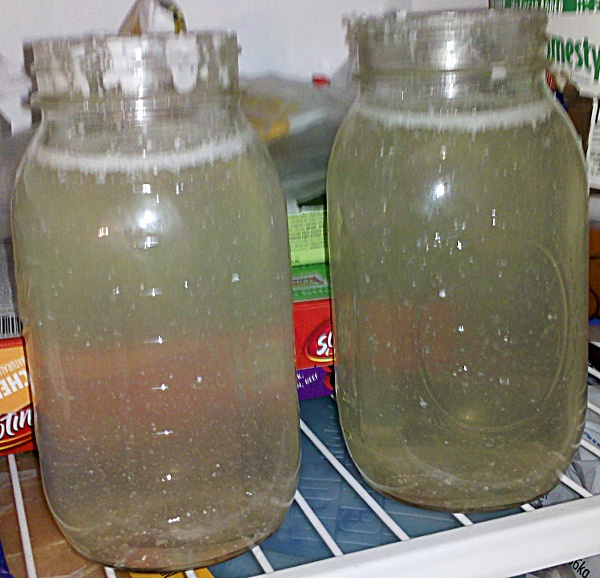 That's a lot of fat.
This won't actually freeze the vodka, but it will solidfy the fat. One recipe I found claimed that the fat would congeal into a disk that could be removed in one piece, but I wasn't lucky enough to get anything like that. It will start forming chunks, which makes it easier to filter out using a coffe filter.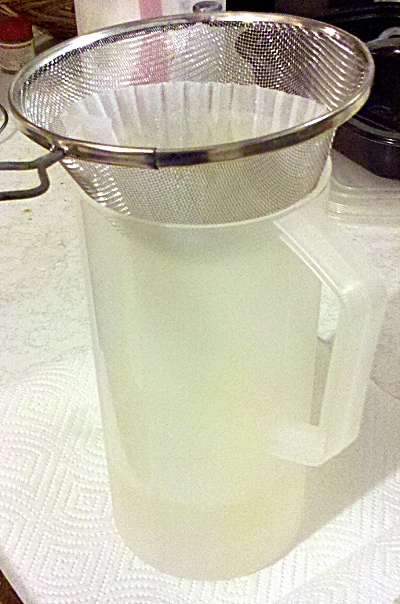 Fixing the problem
This was my original setup. It didn't work very well. Fat got clogged in the strainer, which was too wide to be effective anyway. I ended up moving to a smaller funnel in a mason jar; I wish I'd thought to get a photo of it.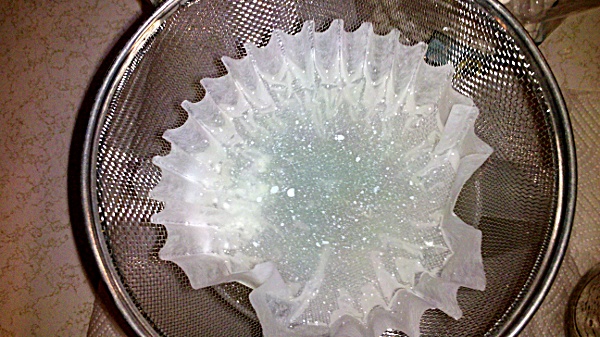 Yes, the fat really is that visible
This is a long process, because filtering takes some time. I eventually had to get into a rhythm of loading up the filter, stepping away for 10-15 minutes, and then refilling.
The first repetition will get the majority of the fat out, but I went on to repeat this 4-5 times, putting the vodka in the freezer between each repetition. As the fat is strained out, the mixture becomes less greasy and the smell dissipates. Eventually the fat smell gives way to a bit of the alcohol smell of the vodka. The final product still smelled a bit off to me, but it did improve.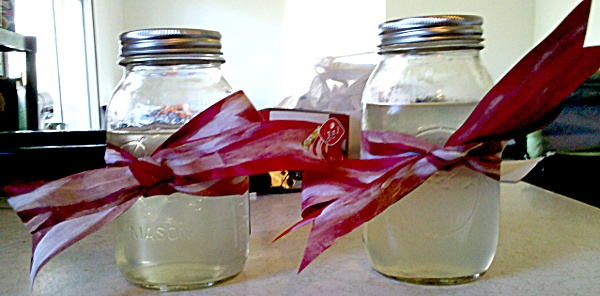 The finished product
Rather than wait until Christmas (because I didn't know if it was any good), I gave the gifts at the first opportunity. (Also, I am too chicken to try a shot of the stuff, because I expect it tastes like a mouthful of grease.)
Both Devan and Chad said they liked it after they'd tried a little. Thankfully it smelled more like bacon to them that it did to me. I think this is really better for a Bloody Mary or for cooking than for straight drinking.
However, Chad was foolhardy enough to try a straight shot of it: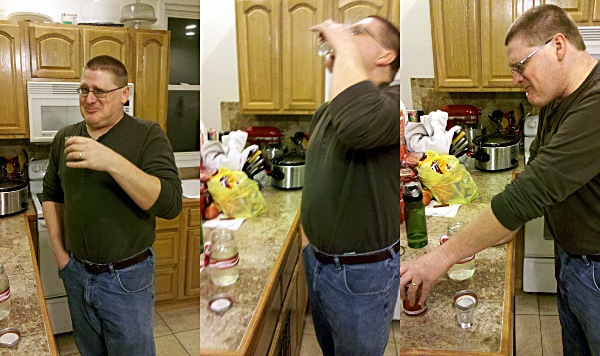 The face says it all.
Comments