This weekend, John and I drove over to Nashville for Geek Media Expo Volume 2.
I didn't attend the first GMX last year, but we have been attending their parent convention, Middle Tennessee Anime convention, for several years now.
Originally I'd pre-registered thinking I'd get away for a weekend and see what the new con was like. (The last couple of years, I had a distinct preference for the multi-fandom DragonCon over most of the anime conventions we usually attend. I blame kids these days with their Naruto and their Bleach and their Axis Powers Hetalia.)
Through several twists and turns, it became a two-man, three-panel whirlwind tour.
We didn't know what to expect at GMX. I assumed it would be something like MTAC, only smaller and slightly less anime-focused.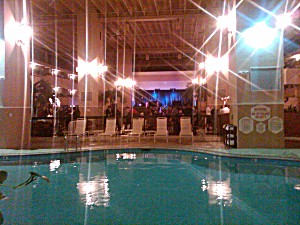 Smaller, yes. Not too small, but not too big. For the convention's size, I think the Opryland Radisson was the perfect choice. The large, open atrium was used as the Main Events track, which
I thought was brilliant. Unless you were in a panel room, you knew what was going on at any given time.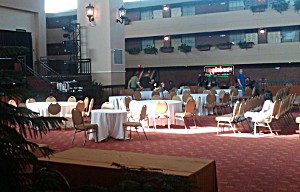 Main Events
There wasn't as much anime as I expected based on the MTAC connection. The schedule was extremely varied, although (between our short stay and running our own panels) we missed a lot of
interesting-looking panels. Given the breadth of the topics covered and the size of the con, there were occasionally blocks where I couldn't find much interesting going on. I suspect a lot of
that will settle out in the coming years as the con grows and the most popular events return.
Not being a huge Stargate or Voyager fan, I wasn't too excited about the guests. I was disappointed that Aaron Douglas (Chief Tyrol on Battlestar Galactica)
canceled because of a scheduling conflict. However, I was surprised at the caliber of guests GMX, being only two years old, managed to line up.
Still, I love the atmosphere. I'm sold on going back next year, and probably presenting a few more panels. If I can sell it to everyone else in the group, attending all three days and
staying at the con hotel would be awesome. To save some cash on this experiment, we stayed one night at an Econo Lodge a ways down Briley Parkway, and I felt like I missed out on a lot.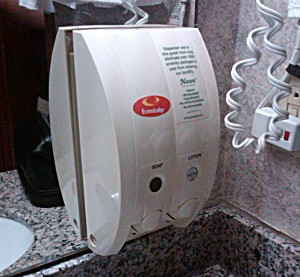 Upside, though: soap dispensers from the world of tomorrow
The panels I did attend were entertaining. The Man Power hosted the slightly off-topic but always hilarious Spoon! A Tick Fan
Panel and Jackie Chan: Master of Cinema. The Man Power put on an awesome panel, even if you don't have the slightest clue about the topic (confession: I've only seen a
handful of Jackie Chan's movies, and only the American ones).
Saturday night, I was in Standing Too Close To The Fire: Burn Notice, which mostly featured stories from the set (the host was the son of one of the show's crew).
I also caught Boba Fett: The Man, The Myth, The… Clone? on Sunday morning. I'm not a huge Boba Fett fan, but I did happen to agree with the general sentiment that making Boba Fett a clone was one of the horrible side-effects of the prequel trilogy.
Our panels went fairly well, despite the fact that I nearly had a panic attack on Saturday morning worrying about them.
Game Development with XNA went over well. I'd initially geared my talk and slides for non-programmers, but I realized about halfway through that I was getting too technical
while not touching a bit of code. Skipping through most of my technical points, I opened up for questions and discussion about halfway through. Turns out there were several coders in the
audience with specific questions. (This is also where I'm glad I attended that Windows Phone 7 Developer Bootcamp.) The questions and discussions were great–it's always a good sign when
discussion among attendees breaks out during the Q&A segment.
Dungeons and Dragons And Other Stuff, Too was surprisingly a success. As Chad and Charlie had to drop for various reasons, it was just John and me. I had no fear of
contributing to a conversation, but I figured there'd be little to play on if audience participation was light. Thankfully, we had a great and active crowd and some amazing discussion take
place. I learned a little bit that I didn't know about AD&D 2nd Edition.
If there was anything I found slightly disturbing, it was that people were asking us for our opinions on general concepts like homebrew settings. I'm happy to offer my thoughts and spur discussion, but on such
a broad and diverse subject as tabletop RPGs, I'm not sure my word is gospel. But open up a discussion panel and I guess people think you're an authority.
Our final panel, Podcasting 101 was a good end to the con. Gothic Gaara from the Naruto podcast Konoha
Corner, who we'd met at the AWA Podcaster Roundtable, stepped in. (Having a second set of opinions was great, especially from someone who does a much different style of podcast than we
do–there's no one right way to do a podcast.) The turnout was a bit light, but that meant Q&A was a bit more loose and free. We filmed this, and it should be up on YouTube sometime this
week.
Our time at GMX was fun, short, and too full. We met some new friends and caught up with old ones–something we've never been able to do quite the same way at MTAC or AWA, given the crowds
those cons draw in. I'm impressed, and I'm looking forward to next year.
(I took a very few photos, which can be found on Flickr.)