So I have an interesting road trip planned in a couple of weeks.
I say "interesting" because it's been a while since I've done any serious travel on my own and I'm looking forward to it. But also because it's just a crazy combination of destinations.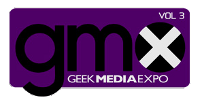 October 21-23 I'll be in Nashville for the Geek Media Expo. So far I've had three panels accepted (XNA Jam, Podcasting 101, Nonfiction for Geeks), but the schedule isn't up yet.
GMX has been in the cards for months. I wasn't really sure which days I'd be going or where we'd stay, but I knew I was going. (As it turns out, "all three days" and "in the con hotel.")
The new thing, and the thing that turns this into an honest-to-goodness road trip, is that I'm also going to be in Memphis. I'll be at St. Jude Children's Research Hospital earlier that week to participate in a medical study.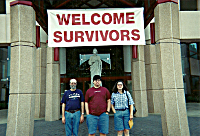 When I was in high school, I was diagnosed with non-Hodgkins lymphoma and went through treatment at St. Jude. (Incidentally,
since I haven't had a relapse after 14 years, the chance of recurrence is nil.) I'm taking part in a study on the long-term effects of treatment.
Essentially, it's three days of medical tests. My After Completion of Therapy checkups stopped 10 years after treatment, so it's more data to help future research, as well as some medical tests at no cost to me. Plus, there are no travel costs and they're paying me for my time (for some reason, participating in a medical study just sounds cooler than merely a very thorough checkup). In short, it's a good excuse to take some time off and travel.
I won't lie, I'm a terrified of the whole thing. First, the idea of three days of procedures and tests isn't pleasant. And while I see it as an opportunity to catch potential health problems early (whether side effects from treatment or not), there's always the slight chance that a battery of medical tests will turn up something serious. The best I can hope for is getting griped at about my weight and general being out of shape (which, not surprisingly, doesn't help the blood pressure reading).
The plan is to leave out that Sunday, drive to Nashville for a day, head on to Memphis on Monday night, and then come back to Nashville Thursday after my last appointment.
Since I have some extra time, I will try to see family when I'm out that way. I've talked to dad about nailing down some plans on that front–mom and dad will likely be going on Sunday and Monday. (I'm in Nashville every year for MTAC, but usually ride with friends and spend all my time at the con. I always feel a little guilty.)