Near: Cookeville, TN
Trails: There are four trails marked on the map, but it really splits up into two main sections:
Overlook and Blackburn Fork River Trails (1.0 miles): A mostly flat loop that connects the parking lot with a waterfall overlook and the trail down to the gorge.
Falls Route: A path along the river gorge to the falls (I hesitate to call this a "trail," because you're picking your path along the river). It starts with a steep descent into the gorge; once you're in the gorge, you'll work your way up the river.
My GPS track isn't just a result of exploring side trails (though I did explore downstream); you'll probably need to backtrack and make some decisions about the route you want to take up (and across) the river.
It's a fantastic trail if you like light rock climbing, exploration, and water. There are plenty of things to see and do along the gorge if you're willing to figure out how to get there.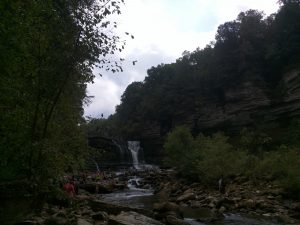 However, it has its risks and downsides. Rocks can be slick; I fell and scraped myself a couple of times. You'll likely have to cross ankle-deep water in a few places; water shoes or waterproof hiking boots are necessary (though I'm not sure which would be better: I soaked my boots because the water was deep in places, but it was helpful to have the extra tread). While the path to the falls was relatively sparsely populated, there seemed to be a crowd at the falls themselves, since it's a swimming area.
More information: https://tnstateparks.com/parks/cummins-falls
Photos: https://www.flickr.com/photos/dylan_wolf/albums/72157698407736632