This is a follow-up to my last post, Building a Procedurally Generated Platformer, which (not being a disciplined blogger) I'd sort of forgotten about until a comment about an off-hand remark I'd made about another blog post popped up in my RSS feed. Then (again, not being a disciplined blogger), I forgot about that half-finished post until I started thinking about writing a new post and checked my WordPress admin.
In the last post, we discussed one way you could randomly generate a two-dimensional array of values representing ground, platform, and trap tiles. For example, it might look like this: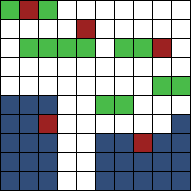 The trick, of course, is to convert each of these chunks into actual Unity objects, and to do so in a way that performs well.
Because we'll be adding new chunks as needed, we want to make sure we don't freeze play due to adding large chunks that are costly to instantiate. Because we want to restart the level quickly (without reloading the scene), we want to minimize the cost of creating new game objects.
Continue reading →