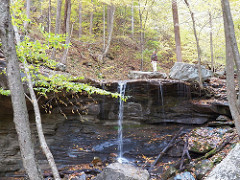 Near: Wartburg, TN (Knoxville/Oak Ridge area)
Trails: Frozen Head has a campground, multiple interconnecting trails, and backcountry camping sites. Trails I have hiked are:
Emory Gap Trail (1.0 mile total): Leads past Debord Falls and ends in Emory Gap Falls. Connects to the rest of the trail system via the Panther Branch trail. Seems to be fairly well-trafficked compared to the other backcountry trails.
North Old Mac Trail (3.55 mile): Some good scenic overlooks, especially near the campsite near the Panther Branch junction.
Flat Fork Walking Trail (0.9 mile): A walking trail that runs along the river from the info center to the campground.
Trailheads:
Panther Branch Trailhead: Just past the group camp sites. Access to the Debord/Emory Gap Falls trail
Old Mac Trailhead: Just before the campground. Access to the North and South Old Mac Trails.
Photos: https://www.flickr.com/photos/dylan_wolf/sets/72157631823446821
More Information: http://tnstateparks.com/parks/about/frozen-head