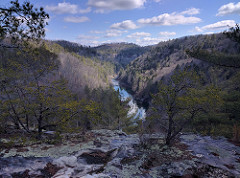 Near: Wartburg, TN (Knoxville/Oak Ridge area)
Trails: There are multiple trailheads; I've been to the Lilly Bridge and Nemo trailheads. The Lilly Bridge area leads to a rock climbing area and an overlook; they seem to have more traffic. Other trails were more secluded.
Trails I have hiked are:
Bridge Trail (0.5 miles): Connects the Lilly Bridge trailhead to the Overlook trail, and leads to the rock climbing area. Several smaller waterfalls are accessible if you venture a little off the trail.
Overlook Trail (0.3 miles): Leads to the Lilly Bluff overlook. At the overlook, the trail ends in a boardwalk with seating. Seems to be more trafficked than the other Lilly Bridge trails.
Point Trail (3.8 mile round trip): Leads you up and along a ridge that follows the river. Lots of scenic overlooks along this trail; probably my favorite trail that I've hiked at Obed.
Boulder Field Trail (0.4 mile round trip): As the name implies, ends at a field full of large, interesting rock formations. You don't necessarily have to be a rock climber to appreciate it.
Emory River Nature Trail (1.0 mile): A short loop off the Rock Creek Campground near Nemo Bridge. Connects to the Cumberland Trail. When I hiked it, this seemed more trafficked than the other Nemo trails.
Cumberland Trail – Emory River Gorge Section (2.6 mile round trip): Leads up to the top of the gorge and along the river, with some scenic views along the way.
Trailheads:
Lilly Bridge Trailhead: Access to Overlook, Point, Bridge, and Boulder Field Trails. There are two parking areas: one at the bridge itself (connecting to the Bridge Trail), and one further up the road (connecting to the Overlook and Boulder Field Trails).
Nemo Bridge Trailhead: Access to the Emory River Gorge section of the Cumberland Trail. Also has a short trail to some larger river rapids.
Rock Creek Campground: Across the bridge from the Nemo Bridge trailhead. Access to the nature loop and the Cumberland Trail.
More information: https://www.nps.gov/obed/index.htm
Maps are available at the Obed River information center in downtown Wartburg.
Photos: https://www.flickr.com/photos/dylan_wolf/sets/72157677223454224