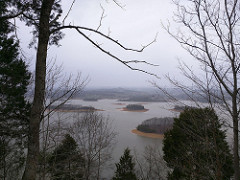 Near: Morristown, TN
Trails: There are a number of different trails that are marked for foot, bike, and/or horse riding. The trails I have hiked are:
Point Lookout Trail (1.9 miles): Accessible from either the Spoone recreation area parking (via the Seven Sinkholes trail), or a short walk from the recreation area further down the road.
Cherokee Lake Trail: A short trail off of the Point Lookout trail that leads to the lake shore.
Seven Sinkholes Trail (0.6 miles): Accessible from the Spoone recreation area. The trail runs between the various sinkholes, so it's not necessarily a clear loop. The connection to the Point Lookout loop wasn't easy to find and didn't have a clear sign from the Seven Sinkholes side; it's the large trail toward the back of the loop (which could be mistaken for a road at first).
Points of Interest:
Point Lookout: A lookout over a few small islands in Cherokee Lake.
Cherokee Lake: The trail off the Point Lookout trail gives access to the lake shore. The water was low when I hiked the trail, so there was a fairly steep beach along the lake which you could follow along the shoreline.
Sinkholes: The seven sinkholes are marked by signs.
More information: http://tnstateparks.com/parks/about/panther-creek
Photos: https://www.flickr.com/photos/dylan_wolf/albums/72157690815662742