I'm planning on moving the blog over to Wordpress in the next few days. I'm also going to remove Feedburner as my primary RSS feed, and move comments to Disqus (hopefully).
Redirects set up for everything, but your RSS reader will probably freak out when I switch it over. It's probably best to unsubscribe for now, and then (if you really want) resubscribe next week when things are all back to normal. (Or, just get ready for a deluge of posts from a year or two ago.)
At the moment, I'm not looking to get back into blogging here, though I'll probably do some cleanup and figure out what content goes on this site and what goes elsewhere (and what can be trashed). The WordPress switchover is a prelude to that housekeeping, though.
I've heard some rumblings about a new edition of D&D today, and finally caught a couple of links in my Twitter feed. (I could just Google this stuff, but I'm lazy and feel like I can trust re-tweeted links from known sources better.)
I'm having two reactions to these rumors, and I think these apply to not only gaming, but technology and programming and all sorts of other things. (Admittedly, they are gut reactions.)
Learn to recognize when you're being sold the "next big thing" line, but don't overreact. 4E's marketing was all about how it makes the game more accessible and easier to play. And it did that, mainly by adopting some game mechanics from MMOs. Fundamentally, this isn't a bad thing. Rumors pointing to a more old-school approach suggest either it didn't work or it went too far.
This seems to be the fundamental problem with a lot of leaps in design/technology: to ease the uncertainty, it's hailed as the "next big thing" (the implication usually being that those who don't like it don't "get it"). For other examples, look at WPF vs. WinForms and .NET vs. WinRT. Or look at any new programming methodology that gets some good buzz behind it. Maybe we'd do well to consciously remember almost every "next big thing" will somehow, someday be "old and busted," if only because it loses its novelty, and that you can't say with certainty what "the next big thing" will be until well after it actually becomes "the next big thing".
But being a naysayer may be as bad as being sold on the party line. 4E was a different system than 3E. It did some things better and some things worse, but it wasn't on the whole a huge step back--more like a lateral move. Ultimately, I hope the update will capitialize on the good things while dropping the things that didn't work. But if you deny that an about-face means the whole thing wasn't as successful as hoped, you might end up missing the "next small, iterative thing" because it's not the much-heralded "next big thing."
My point, I suppose, is that the best response is to realize it is a line and ignore it. And railing against it is not ignoring it--you're still allowing the line to dictate the terms of the conversation.
As an aside, I think companies damage trust with their customers when they play a strong "next big thing" line and it fizzles. Of course, that's just me--I'm overly literal and I have a strong reaction to trying to reframe reality in ways that turn out to be decidedly unrealistic. But I have a feeling the "reality-based community" is not a large portion of anyone's target audience.
WotC is doing well to frame this announcement by focusing on the fact that game development is an iterative, sometimes opinionated process, rather than playing "the next big thing" card again. I don't know if that will convince people to buy a new set of books.
There is no universal system for anything. I find the talk of a single system a bit disconcerting. 3E was a very tools-oriented system and 4E was a very game-experience-oriented system. Both of these are valid approaches for different types of people, the success of which depends upon whether a niche will buy enough to support the product line. And the quality of each approach depends on making design choices that support that approach--it's nearly impossible to create a good restricted, simplified system and cater to people who want an open, free-form toolbox.
To put it another way, even if it's community-driven, it will not necessarily be universal.
4E was divisive is because it told 3E D&D fans "this is what we're about now." That didn't sit well with me, but I recognized 3E and 4E were the right tools for different types of campaigns (in terms of genre, feel, player types, and scheduling/effort). No matter what the company line was, I was free to choose which tools I would use.
The two approaches could almost be separate product lines, or maybe alternate rules sets of rules à la Unearthed Arcana. (And it appears this is not too far off.) But any attempt to say "this is the secret formula" will end up looking dated in a few years, even if it was borne out of community involvement and playtesting.
Of course, the rub in WotC's case is that you have to have a business model to go along with whatever decision you make. Will subscriptions work as well as they hope? I'm not sure. I only recently decided to shell out for D&D Insider, but $9.95/month is painful for one semi-regular game. Is there a middle way between a subscription-based model and model based on endless splatbooks? I don't know.
Anyway, that's my two cents. I haven't played a lot of 4E. For reasons I'm not entirely sure of (and which may have little to do with the game itself) I haven't been all that excited about learning the rules in depth as I was with 3E. Will these updates fix that for me, or will it make me say "screw it, I'm sticking with 3E"?
(EDIT: I actually went back and read some of the original source articles and updated this post.)
This is a recipe I developed last year, and it never quite came together until a few months ago. I had worked with the apple cider/cinnamon combination a bit. Then my friend Charlie suggested that, for a potluck around Halloween, everyone should include pumpkin in their dishes. (Challenge accepted, allez-cuisine, and all that.)
It turns out adding pumpkin puree to the recipe thickens up the chili and adds a bit of sweetness, which is just what the combination needs.
What you need:
A slow cooker
1 pound of ground turkey or beef
2 green peppers, diced
2 onions, diced
1-2 cloves of garlic, minced
1-2 jalapenos (or other type of pepper), diced
about 1 pound of dry beans (I usually use half a bag of red beans + half a bag of black beans)
2 12oz bottles hard apple cider (I typically use Hardcore, since it's more crisp than sweet)
half of a 15oz can of pureed pumpkin
apple cider vinegar (to taste)
about 1-2tsp each of cinnamon, smoked paprika, and chili powder (I've never measured this exactly, so it's really to taste)
other spices to taste (I usually throw in salt, cumin, cayenne pepper, rosemary, and coriander, but I'm a bit of a cargo cult cook when it comes to spice usage)
First, start soaking your beans. I usually do a quick soak/rinse: fill a pot with water, boil your beans on high for about 10 minutes, remove from heat, and sit covered for an hour. Once that's done done, rinse them under running water in a strainer. After that's done, boil them again until they're tender.
While the beans are soaking, start dicing your peppers, onions, and jalapenos, and mince your garlic. If you don't like your chili to be hot, remove the seeds from the jalapenos; otherwise, leave them in. You may want to cook the vegetables on the stove to remove some of the moisture before they go into the chili, but they should get tender enough cooking in the crock pot.
Brown the meat in a skillet. Here's where I'll usually toss in the cumin and rosemary. (Again, that's cargo cult cooking that I've swiped from other recipes.)
Once all of the above are complete, put the beans, vegetables, and meat into the slow cooker. Add one bottle of cider. Cook for several hours. (I usually leave it to cook overnight.)
Add the rest of the cider and the pumpkin. Add spices and vinegar to taste. Continue cooking for an hour or so.
Alternate ideas:
It's been suggested that some type of pork (sausage, bacon, etc.) would be a good replacement for beef or turkey.
If you want a non-alcoholic version, vegetable stock might work in place of apple cider. The cider taste isn't overpowering, so the difference would be subtle.
I've left out the jalapenos entirely and just used a bit of cayenne pepper to add heat. This is good for those who don't like hot chili.
I am not much of a drinker, but I know some people who are.
Somewhere along the way I decided that, as Christmas presents this year, I was going to make bacon-infused vodka for my sister and my friend Chad (both connoisseurs of drink and bacon--or as Chad likes to call it, "the holiest of meats"). The inspiration may have come from my sister's talk of making various edibles for Christmas gifts. I don't know.
(A step-by-step recounting of the process, with photos, in the full post.)
So I have an interesting road trip planned in a couple of weeks.
I say "interesting" because it's been a while since I've done any serious travel on my own and I'm looking forward to it. But also because it's just a crazy combination of destinations.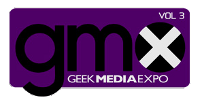 October 21-23 I'll be in Nashville for the Geek Media Expo. So far I've had three panels accepted (XNA Jam, Podcasting 101, Nonfiction for Geeks), but the schedule isn't up yet.
GMX has been in the cards for months. I wasn't really sure which days I'd be going or where we'd stay, but I knew I was going. (As it turns out, "all three days" and "in the con hotel.")
The new thing, and the thing that turns this into an honest-to-goodness road trip, is that I'm also going to be in Memphis. I'll be at St. Jude Children's Research Hospital earlier that week to participate in a medical study.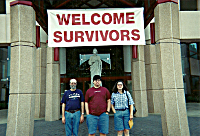 When I was in high school, I was diagnosed with non-Hodgkins lymphoma and went through treatment at St. Jude. (Incidentally, since I haven't had a relapse after 14 years, the chance of recurrence is nil.) I'm taking part in a study on the long-term effects of treatment.
Essentially, it's three days of medical tests. My After Completion of Therapy checkups stopped 10 years after treatment, so it's more data to help future research, as well as some medical tests at no cost to me. Plus, there are no travel costs and they're paying me for my time (for some reason, participating in a medical study just sounds cooler than merely a very thorough checkup). In short, it's a good excuse to take some time off and travel.
I won't lie, I'm a terrified of the whole thing. First, the idea of three days of procedures and tests isn't pleasant. And while I see it as an opportunity to catch potential health problems early (whether side effects from treatment or not), there's always the slight chance that a battery of medical tests will turn up something serious. The best I can hope for is getting griped at about my weight and general being out of shape (which, not surprisingly, doesn't help the blood pressure reading).
The plan is to leave out that Sunday, drive to Nashville for a day, head on to Memphis on Monday night, and then come back to Nashville Thursday after my last appointment.
Since I have some extra time, I will try to see family when I'm out that way. I've talked to dad about nailing down some plans on that front--mom and dad will likely be going on Sunday and Monday. (I'm in Nashville every year for MTAC, but usually ride with friends and spend all my time at the con. I always feel a little guilty.)